Manual:
How to request a custom calibration
If you couldn't find the required solution in the catalog or if the algorithms gave an error even when all the data was filled in correctly and the ECU file was uploaded, in this case, you can submit a request for custom calibration of the file, and our specialist will perform all the necessary work on the file, if technically feasible.
How to proceed?
To submit a request, you need to fill out the ECU file calibration application form: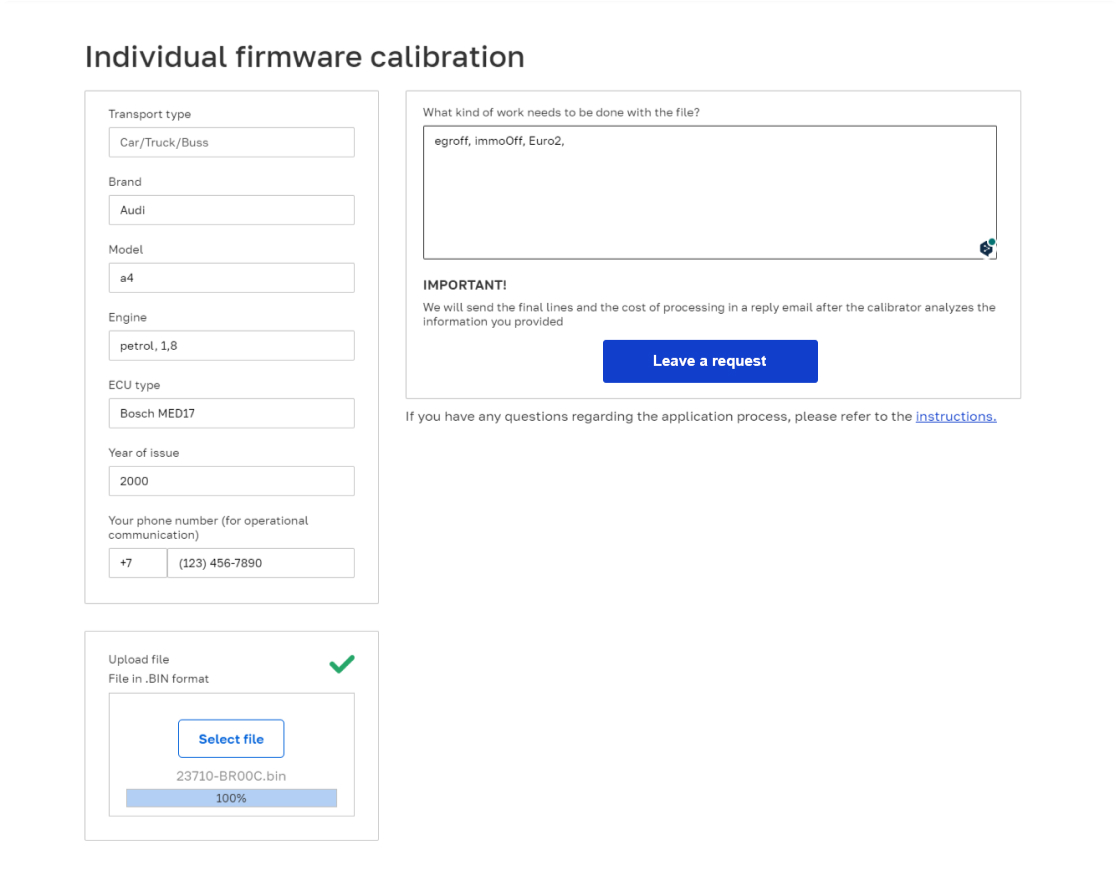 Brand and model - specify the vehicle data exactly as stated in the registration certificate, catalog, or manufacturer's website, without abbreviations, errors, or transliterations.

Engine - specify the capacity, petrol or diesel.

ECU Type - specify the ECU model without errors, abbreviations, or transliterations.

Year of manufacture - specify the year the car was manufactured.

Your phone number - provide your phone number so that the calibration specialist can contact you if additional information is required. They will call you or contact you via a messenger.
Next, provide detailed information on the specific work that needs to be done on the file
Specify the specific actions required, such as Euro-2, EGR disable, immobilizer, disable specific errors.
Do not include:
Increasing power, reducing consumption

Questions about how to write the file and what tools to use

Information about your client and their preferences
If there are any errors in the ECU or if the ECU file is not "stock", it is better to mention it in as much detail as possible.
Next, attach the ECU file in *.BIN format to the form
We will work according to your technical specifications and with the file you have sent us.
After that, the request
Will be forwarded to the manager, who will then pass the file and work details to the calibration specialist. The specialist will examine the file and technical specifications and inform you about the possibility or impossibility of editing it.
If the work is feasible, the manager will send you information and a payment link to your email. If the work cannot be done, you will also be notified.
Once the payment is made, the calibration specialist will edit the file
The finished file will be sent to your email, and you can also download it from the «My Orders» section